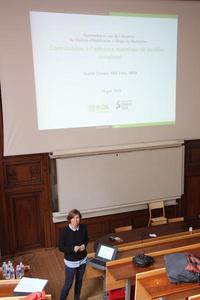 Since jan. 2022 : Vice head (DUA) of MIA Paris Saclay.
Since jan. 2021 : Team Leader of SOLsTIS
Since sept. 2013 : Researcher at INRAE, MIA Paris-Saclay
Member of the scientific councils of AgroParisTech and the MathNUM INRAE departement
Correspondant for scientific mediation actions at FMJH
Responsible of the Ecology "parcours" at Master 2 MathSV, University Paris Saclay
University curriculum
2018 : Habilitation à Diriger les Recherches (HDR) Contributions à l'inférence statistique de modèles complexes

2003 - 2006 : PhD in Statistics. Defended on 30/11/2006 at University Paris-Sud. Advisors : M. Lavielle et J.-B. Poline (INRIA-Neuropsin). Title : Inversion de données IRMf. Estimation et sélection de modèles.

2002 - 2003 : Master 2 in Stochastic modeling and statistics at University Paris Sud.

2001 - 2002 : Agrégation de mathématiques, option probabilités et statistique.